Welcome to Dorset Raw Pet Foods
*Frozen Raw Pet Food Stockist*
Raw & Freeze Dried Dog Food
Collars, Leads & Harnesses
Weight Management Programme
Friendly Guidance & Support
Everything you need to keep your pets Happy and Healthy
Dorset Raw Pet Foods is an Independent Family run Business based in Gillingham, Dorset.
Kaz, owner of DRPF, set up the business after discovering the amazing benefits that raw, natural feeding had on her own dogs. Determined to share her experience and newly gained knowledge, Kaz has committed herself to creating a welcoming environment stocked full of high quality, naturally nourishing products so that pet owners alike can come and join the raw feeding journey towards healthier, happier pets!
With what was first a shed with a couple of freezers, DRPF has now progressed to a successful little shop, offering an extensive range of Frozen Raw Pet food alongside a huge variety of Natural Dog Treats, Toys and Accessories.
Our aim is to share our Holistic approach to Pet Nutrition and help guide you towards providing your furry companions with high quality, nutritious products that they will thrive off!
All our products are DEFRA registered and sourced from naturally wholesome ingredients!
We offer a variety of options including complementary DIY, 80:10:10 completes and freeze dried, all at competitive prices to help suit you and your pet's individual needs.
So.. If you're as passionate about providing your pets with the highest quality sourced nutrition as we are. Why not pop in and see us?
We are always happy to help ! :)
The Taster Team
aka the Heart of the Business
Owned by Kaz and her family. Chester and Kalow are the reason DRPF ventured into the Raw Feeding Community.
Kaz's Desire to provide her 2 Working Spaniels with the best quality of life is something that many pet owners can relate too. The strong bond between humans and their pets is what strives us to do whatever we can to enhance their lives and extend their longevity.
We strongly believe, after witnessing the transformation in not only our own dogs but the dogs of other owners, that Natural Raw feeding is the way forward for our pets.
The improvements that raw feeding has had on all of them has been remarkable !!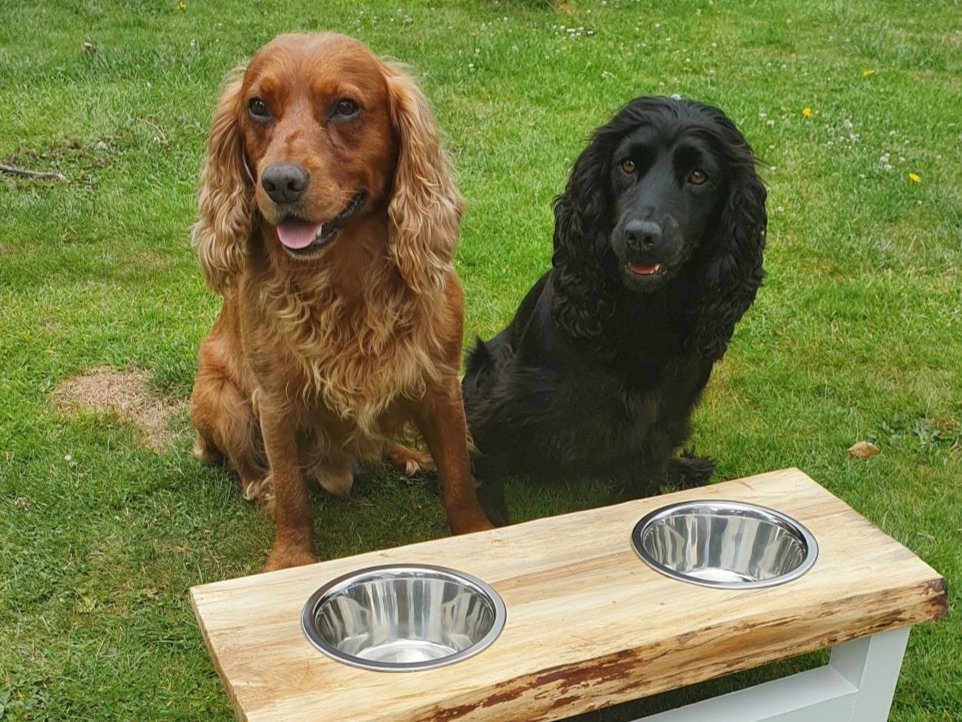 Here at Dorset Raw Pet Foods, we want to support you and your pets so that you can also experience the benefits it has on their Health and Vitality ... and most importantly, see them at their Happiest selves! :)
Start your Raw Food Journey Today !
We also have a wide range of Natural Dog Treats and Chews. Click the link below to check out our products!
Or Visit us
Dorset Raw Pet Foods
The Haywain, Shaftesbury Road,
Gillingham, Dorset, SP8 4JZ
On site car parking available!
Monday : 10 - 4.30
*Times may vary on Bank Holidays*
In case of any other circumstances that require us to close the shop, please check the website first or follow us on social media to be kept up to date with any temporary changes to our opening hours.
Deliveries
We offer a Local Delivery Service which allows Customers to order online and have your chosen products delivered right to your door!
See included Delivery area below:
Every other Tuesday:
Mere, Wincanton, Yeovilton area
s
Every other Wednesday:
Sturminster Newton, Stalbridge, Sherborne & Yeovil areas -
Once a month on a Wednesday:
Warminster & Westbury areas -
Please contact us for further details and dates : 07957 489621
*Delivery Dates may vary depending on Staff Availability*
Please check for any changes listed below:
----- NO CURRENT CHANGES -----
DRPF Disclaimer
The Staff at Dorset Raw Pet Foods are here to help support you with your food choices. We are NOT trained Nutritionists and do not claim to be experts in Raw Feeding.
Any information or recommendations are made based on our opinion, experience and acquired knowledge. Individual results may also vary according to breed, health and feeding practices.
As a pet owner, you accept the responsibility to make the best decision for your own pet.
We are not responsible for how you chooser to feed any of the products sold by us. If you are concerned about any aspect of your pets health, we strongly advise you seek professional advice.
There is also plenty of information publicly available about Raw Feeding. We suggest joining several social media groups and further reading/research in order to better form your own opinion about how to best approach Raw Feeding.
Learning should never end! :)
Please do your own research and ensure products are appropriately stored and handled safety.
For more information on 'Safe Handling of Raw Pet Food', visit;

https://www.gov.uk/guidance/raw-pet-foods-handling-and-preventing-infection